Green home cleaning products and reviews
I am beyond excited to have received my first Grove Co. order!
If you are unfamiliar with Grove Collaborative, it is a marketplace for greener alternatives. Grove has a variety of products ranging from cleaning supplies and pet care, to skin care. It is a monthly subscription based program that suggests new items each month based on your preferences.
First Order
I had been looking at Grove for a few months debating on ordering or not. I waited and one day I saw an ad that Grove as offering a special deal, where if you purchased over the minimum order limit, you would also receive the new Meyers cleaning products seasonal scent, Spiced Pumpkin.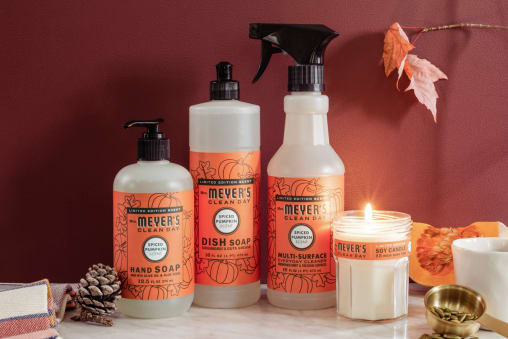 They got me with that bait!
The minimum order was around $25 to qualify for the free gift. I searched the products to see what my household was lacking. I was pleasantly surprised with the pricing! Nothing was too out there and fit within my budget.
This is a subscription based program so it will be interesting to see how each month works as far as what I need to replace.
What I Purchased:
Laundry Detergent
Dishwasher Detergent
Tree-less Tissues
Tree-less Paper Towels
Walnut Sponges
Recycled Aluminum Foil
Ceramic Soap and Brush Dispenser
Meyers Free Gift*
First Impressions
Overall I was satisfied with the amount of things I got for the price.
I am a sucker for Fall scents so immediately I was drawn to the Meyers Gift set in Spiced Pumpkin! With the weather changing here in CO, it feels like time to bring out the warm and cozy decor and scents!
Using this has given me a little oomph of joy when cleaning. Cheesy, sure, but if you have to do it, you might as well enjoy it!
The Treeless Paper towels and Tissues are not the most absorbent, but they get the job done and have a smaller impact on the environment.I have been stocking up on paper-less towels recently, so I will not be reordering these products. I save my used paper towels that do not have food residue for when I paint and make a mess!
Skin Care and Hair Products
Grove has a fellow company called Roven for skincare and hair products.
I'm always on the hunt for greener beauty products.
Modern shampoos and conditioners have too many added chemicals that strip your hair of its natural oils and vibrancy. I have recently made the switch to better products, but my partner is a little more reluctant because of his oily, fine hair type. He found a cheap shampoo that once worked, but he is finding it is just creating a lot of buildup in his hair with our life styles now (washing it waaaay less now, quarantine, am-I-right?). So hopefully Grove has some good options for him!
I have tricky skin, oily and dry at the same time. Finding a face wash and skin care routine that works for my skin in this dry, Colorado climate has been a challenge. Roven looks like there is a good variety of products to try out.
Spa days are a fun self-care date I have been giving myself during this quarantine time. My mental health has suffered from this isolation. I find it important to take an afternoon to find peace and love in myself.
So far I am pretty excited about Grove, I look forward to checking out other products with this subscription.
Do you have any favorite green products in your household? Leave a comment below!